Last minute request by dd. She wanted it for dinner last Saturday. Luckily had all the ingredients!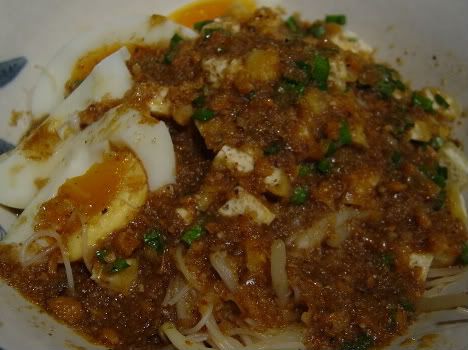 Mee Siam
This is my mother's recipe which has been enjoyed by so many people. My mum cooks this for the church canteen once a month and it is so well received that it is also sold out before the last mass is over!
Here is my mum's recipe. (She bases it on a bowl method)
Ingredients:
Gravy
½ bowl shallots or onions (finely ground) – After grinding, leave it in a sieve to remove excess water
Knob of belachan – to grind together with shallots above
½ bowl of taucheo (ground)
Half a fist full of tamarind paste – add 1 cup water
Chilli paste – depending on your heat tolerance (she uses the ready made ones that you can get from the market) – for me, since I am unable to get ready made paste, I make my own by soaking dried chilles in hot water till soft and grinding them. (make extra to keep in freezer)
Noodles
1 pack of bee hoon (rice vermicelli) – soaked in hot water till soft
Handful of beansprouts
300 gms fresh prawns
Garnish:
Hardboiled eggs
Tau kua
Chinese chives – chopped
Sambal for the mee siam:
Chilli paste
sugar
Method:
1.Heat fry pan and dry fry the pounded onions for a few mins. Move to one side and add oil and when the oil is hot, fry the onions for about 5 mins, then add the ground taucheo and 2 – 3 tbsp of chilli paste (according to your heat level). Fry the rempah till fragrant. Remove from heat.
2.Heat wok and add oil. When oil is hot, add about 2 tbsp of prepared rempah and softened beehoon. If beehoon looks too dry, sprinkle some water to moisten, then add beansprouts and fry for a few more mins. Leave aside.
3.In a saucepan, add tamarind water and bring to boil. Whilst it is coming to the boil, add in prepared rempah. When the gravy is hot, add sugar and a little salt to taste. If gravy is not enough, add more tamarind water or just water. Season to taste accordingly.
Lastly, add the prawns and simmer for a few mins.
4.To make sambal chilli, add oil to a fry pan and when hot, fry the chilli paste for a few mins and then add sugar to taste.
5.To serve, dish the prepared beehoon into a bowl. Pour gravy over and then add garnishing