Sweet and Sour Pork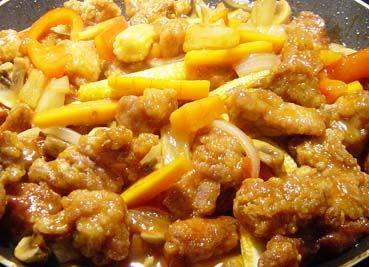 Ingredients:
(A)
500 gms Shoulder pork or belly pork - cut into cubes
2 tbsp soy sauce
1 tbsp chinese wine
1 tbsp corn flour
1 egg - beaten
1/2 tsp bicarb of soda (optional)
1 carrot - diced
1 green pepper - diced
1 onion - cut into wedges
button mushrooms - sliced
baby corn
spring onions - cut into 1 inch slices
fresh or canned cubed pineapples (optional)
Gravy:
2 tbsp soy sauce
1 tbsp honey
2 tbsp vinegar
1 tbsp ketchup
dash of worchester sauce
1 tsp sugar
1/2 cup water
1 tsp cornflour (optional)
Method:
1. Put ingredients (A) into a bowl and mix everything well and marinate for about 15 mins or longer. The bicarb of soda acts as a meat tenderiser.
2. After meat has been marinated, put about 3 tbsp cornflour in a plastic bag and put meat into the bag and shake. Or the alternative would be to put some cornflour onto a plate and add the meat to it. Shake off excess.
3. Heat some oil in a sauce pan and after oil is hot enough, add the coated meat cubes to the oil. Fry in batches and do not overcrown the pan. Fry till meat is browned all over and remove to a kitchen towel.
4. Heat some oil in a fry pan and fry the vegetables in order given. Fry for about 5 mins and then add the gravy and simmer for about 10 mins for veg to soften.
5. Lastly, add meat to the mixture and you can add cornflour slurry to the mixture to thicken up if so wished.
Note: I normally do not add this as the mixture will thickens up slightly.