Decided in the afternoon that I was going to have Asparagus and Crab rissotto for dinner, so here it is.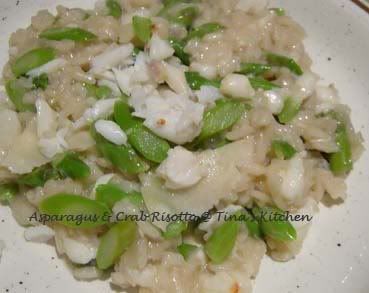 Ingredients: - to feed 2 people
(Preparation time: 10 mins, cooking time 25-30 mins)
1 cup arborio rice
25 gms butter
1 tbsp olive oil
1 onion - chopped finely
1 clove garlic - minced
1 bundle asparagus
crab meat
1 cup white wine
1 litre stock - vegetable or chicken (I used chicken)
Parmesan cheese
Method:
1. Break the ends off the asparagus and add it to the stock. Then cut the asparagus on the diagonal and blanch it for about 2 mins in the stock. Remove and refresh in ice-cold water to retain the green colour. In the meantime, keep the stock on low heat in the saucepan.
2. Heat pan and melt butter and add oil. When butter has melted, add minced onion and garlic and fry till translucent - about 5 mins.
3. Add rice till well coated with butter/oil.
4. Fry for about 3 mins, then add in the wine and cook till it is absorbed by the rice.
5. Slowly add in the stock a ladleful at a time and stir constantly. Add in the next ladleful only after all the stock has been absorbed by the rice.
6. Cook until rice has plumped out and cooked.
7. Add in the grated parmesan cheese and stir.
8. Lastly, add in the asparagus and crab meet and fold in gently to heat up.
9. Serve!