Macadamia nut and chocolate chip cookie
Have done this so many times before and it still tastes good! Pictures show how much the cookie spreads on baking, so remember to leave space for the cookies to expand.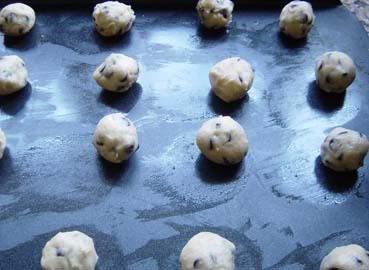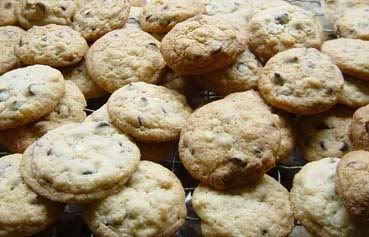 Chocolate and Macadamia Nut Cookies
(makes about 50 - 60 depending on size)
110 g unsalted butter
¾ cup castor sugar
¼ cup brown sugar
1 large egg, beaten
1 teaspoon vanilla extract
170 g plain flour
½ teaspoon bicarbonate of soda
½ teaspoon salt
175 g unsalted macadamia nuts, roughly chopped
225 g white/plain chocolate, chopped
Method:
1. Preheat oven to 190°C. Line a large baking sheet with baking parchment.
2. Cream the butter and sugars together until well combined and slightly fluffy.
Stir in the egg and vanilla extract.
3. Sift the flour, bicarbonate of soda and salt. Add into creamed mixture and stir
in until a soft dough is formed. Add the chopped nuts and chocolate chips and mix till they're evenly distributed.
4. Drop 1 tablespoonful of dough onto the lined baking sheet. The cookies will
spread, so leave 2" gaps between each ball. Bake for 8-10 minutes until lightly
golden brown. Cool one minute on the sheet; transfer to a wire rack to finish
cooling.