Chwee Kueh
This is another Chinese snack or breakfast item that Singaporeans tend to have. Also made these a couple of years ago and then last week, my travel agent here – who happens to be Singaporean and I were talking and I showed her my blog and she asked if I had to recipe for this. Told her I go I step better and make it for her.
Had this recipe from Jo of Jo's Deli when I was first looking for it some years ago, Then I thought I would surf the net to see if there were any other recipes out there.
Tried both recipes in succession and found that Peony's recipe (that she had copied from Jingle) was slightly better.
As you can see Jo's recipe only calls for rice flour and tang min flour whilst Peony/Jingle's recipe has the addition of corn flour, I halved both recipes and each halved recipe yielded about 12 – 15 kuehs each.
The reason why I said I preferred Peony/Jingle's recipe is because after cooking, there is no indentation in the kueh whereas in Jo's recipe there is one and is slightly harder, so perhaps the corn flour makes the kueh softer!
I have put down both recipes in case you want to try both as well!
Jo's recipe
For kueh:
Rice flour 320g/160
Tung min flour 2 tbsp/1
Water 400g/200
Salt 2 tsp
Water 1400g/700
Mix the first 4 ingredients in a mixing bowl.
Boil 1400g water. Pour into batter prepared earlier. Sthingy batter into greased small stainless steel bowls and steam for 15 minutes.
Peony/Jingle's recipe
Kueh Ingredients :
300 g of rice flour/150
25 g of wheat starch (deng ming fen)/15
25 g of corn flour/15
1 tsp of salt
2 tsp of oil
400 ml cold water/200
1000 ml boiling hot water/500
Method :
1. Put rice flour, wheat starch and cornflour into a mixing bowl.
2. Add 400 ml of cold water to the flour mixture, use a wooden spoon to stir.
3. Bring 1020 ml of water to boil, make sure it boiling hot with big bubbles. Only
add in 1000 ml of boiling hot water to the flour mixture.
4. Pour the hot water over the flour mixture, then stir it, add salt & oil to batter
and mix together well.
5. Keep stirring until batter is like glue texture. If the batter is not
transparent, or looks watery glue texture, bring it over the stove to cook it
again, until a portion of it stick to the wooden ladle. Remove from fire. **
6. Wet the mould, pour the batter into the mould, filled about ¾ full. Then add 1
tsp of cold water as topping before bringing batter to steam.
7. Steaming time about 15 - 20 mins. After 20 mins, open the cover, check to see if
there is a depression of water content in the centre, leave the fire on, let it
cook for 5 mins more with cover off, to steam dry the pool of water in kuih
center. Once dried, turn off fire.
** the other option is to put the mixture in a sauce pan and stir till mixture has thickened slightly, then continue to number 6.
Radish Topping
Ingredients :
80 g preserved radish (chai poh)
4 pieces of garlic, chopped fine
Method :
1. Soak the preserved radish to remove some of the saltishness. Drain dry.
2. Fry the garlic till fragrant. Remove and put aside.
3. Fry radish with low fire till soft.
4. Add more oil, if necessary, fry until the radish starts jumping all over the pan.
5. Once fragrant, turn off the fire, add fried garlic and top the kuehs with it.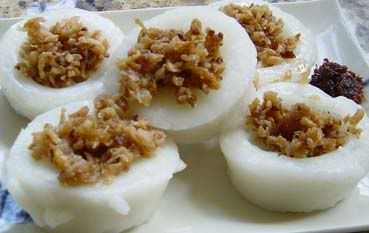 If you look carefully, you can see that the top 2 and bottom right chwee kuehs and indentations while the bottom left and middle kueh is flat.