Png Kueh
The last time I made this was a couple of years back and the other day when I was talking to mum about it. She said she was going to make it for church sale so I thought I'd make some as well. Not that difficult to make. Just soak the glutinous rice overnight and then it would make steaming the next day so much quicker.
Png Kueh
Makes 6 pcs
Ingredients for the Dough
100g Rice Flour
25g Tapioca Flour
175ml Boiling Hot water
pinch of Pink food colouring (paste)
Ingredients for the fillings:
1 cup White Glutinous Rice (wash, soak for 4 hours or overnight)
1/2 tin of Braised Peanuts – optional (I did not use them)
50g dried shrimps(soak in water, drained)
5 dried mushrooms (soaked, drained and sliced)
1 tbsp Fish Sauce
1 tbsp Sesame oil
water
1 tsp sugar
Method for making dough
1. Add flour into a mixing bowl.
2. Pour boiling hot water and using a wooden spoon, quickly stir to mix together
3. Cover the bowl with a plate. Let it stand for 10 mins(to cool it)
4. Remove and add colouring and knead to form a dough.
Method for Filling
1. Put glutinous rice in steamer and steam for about 15mins until cooked. Set aside.
2. Heat oil in frying pan.
3. Add dried shrimps and stir fry till fragrant. Add peanuts (if using), mushrooms and rice and stir fry with rest of ingredients. Add glutinous and fry till well mixed. Add a little water if too dry. Leave to cool.
Method for making the kueh
1. Take a portion (50gm) of pink dough.
2. Flatten it into a round and add about 1 tbsp of cooked rice.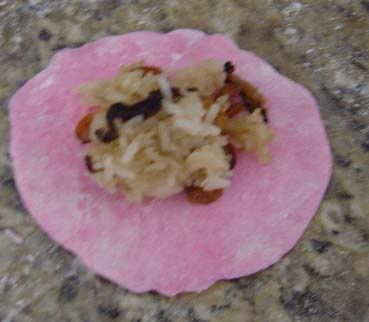 3. Pull the sides up to make back into ball.
4. Put the dough in the mould, press to flatten and spread to cover all the mould.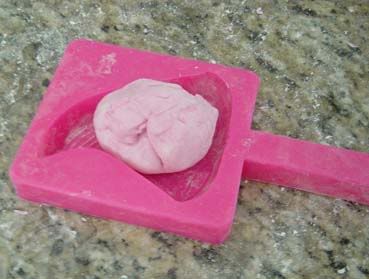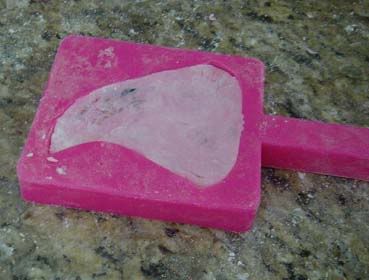 5. Turn over, and knock on the side of the mould to release the dough.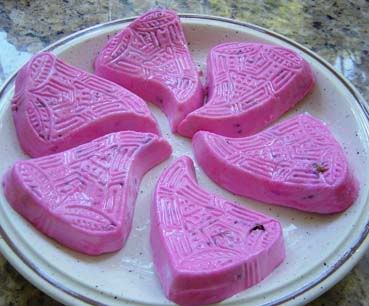 6. Brush it with a little oil, steam over rapid water for 10 mins.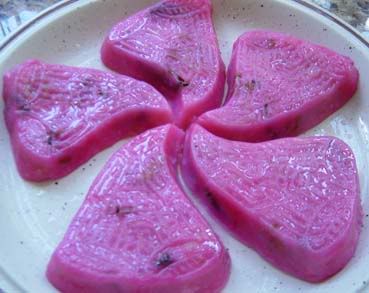 7. Serve with sweet sauce or chilli sauce.