Beef Salad
Quick and easy healthy weekday dinner.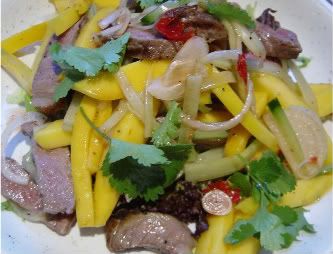 Ingredients: - for 3 ppl
Sirloin or Rump Steak (400 gms)
Red Onion - sliced
Celery - sliced
Mango - seeded and sliced
cucumber - julienned
red chilli - pounded
fish sauce
a little palm sugar
coriander leaves for garnishing
Method:
1. Season steak with salt and pepper and grill on both sides for 4 - 5 mins each depending on how you like your steak done. Rest for 5 mins. Slice.
2. Mix all salad ingredients and add seasoning to taste.
3. Place sliced beef on salad and it's ready to go!