Happy New Year 2009!
Quiet New Year Eve Dinner with family. As mum was with us, did not have any party or go to any, so had peranakan dinner of Buah Keluak with Pork Ribs/Chicken Wing, Mango Fish, Papaya masak Titek, babi assam garam (pix posted previously)and Aubergine with minced pork. Forgot to take pix of the aubergine.
Buah Keluak with Pork Ribs and Chicken Wings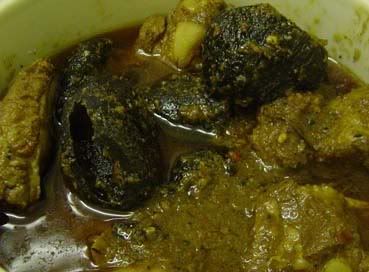 Ingredients:
(A)
10 Buah Keluak (soaked in water for about 1 week - change water every 3 days)
15 raw prawns
1/2 tsp sugar
pinch of salt
(B)
1 inch galangal
3 stalks lemongrass
4 pcs candlenut
50 gm shrimp paste
4 red chillies
2 dried chillies
1 big onion or 15 shallots
1 tsp tumeric powder
(C)
50 gm tamarind soaked in 150ml water, squeezed and strained
700 ml water
500 gm pork ribs or
10 chicken wings or half and half of both
Method:
1. Remove nuts from water and brush them to remove sandy particles.
crack nut at opening and remove meat. Pound or grind together with raw prawns to form a smooth paste. Add salt and sugar, then refill shells.
2. Grind (B) to a paste. Heat oil in sauce pan and fry pounded ingredients B till fragrant. Add (C)and bring to a boil over high heat. Add pork ribs and let it boil for 5 mins. Reduce heat and cook for about 1/2 hour. Add chicken wings and black nuts and cook for 1/2hour or till chicken is tender.
Mango Fish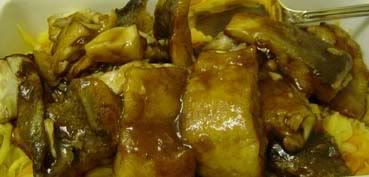 Ingredients:
2 pcs fish fillet (White) - sliced
1 green mango (peeled and shredded)
1 carrot (peeled and shredded)
Sauce/Seasoning
1 - 2 tbsp black vinegar
1 tbsp marmite
1 tbsp tomato ketchup
3 tsp sugar
pinch of salt and pepper
3 tsp oil
2 tbsp tapioca starch/flour
Method:
1. Mix shredded mango and carrot. Add 1/2 tsp salt and set aside for 5 mins. Add 1 tsp sugar and marinate and set aside.
2. Marinate the fish fillet slices with seasoning for 10 - 15 mins.
3. Heat up enough oil to deep fry the fish fillets. Before frying the fish, coat in tapioca flour and fry until golden brown. Dish out onto kitchen paper.
4. Put remainder of seasoning/sauce mixture in small saucepan and add 1/2 cup water and boil until it thickens. Put in fried fish and coat evenly with sauce.
5. Place shredded mango and carrot onto a plate and place fish fillets onto the shredded ingredients.
6. Serve
Papaya Masak Titek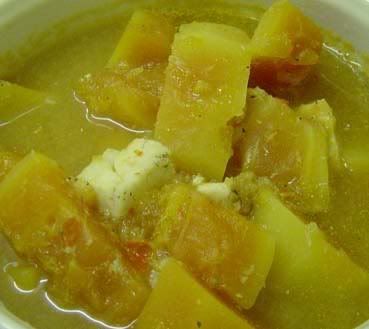 This is another peranakan dish that is seldom seen in restaurants.
Ingredients:
(A)
3 candlenuts
1 tbsp shrimp paste
1 big onion or 10 shallots
1 red chilli
1 tbsp ground black pepper
1 Fish Cube
2 green papaya
12 big raw prawns or 2 fish fillets - sliced into pieces (white fish)
700 ml water
50 gm dried prawns - ground
50 gm salted fish
Method:
1. Grind A to a fine paste
2. Skin papaya and cut into pieces
3. Fill pan with the 700 ml water, add A, ground dried prawns and fish stock. Bring to boil. Put in the papaya pieces and boil till almost tender. Add fish slices or prawns or both for 5 mins till seafood is cooked. Remove from heat and serve.